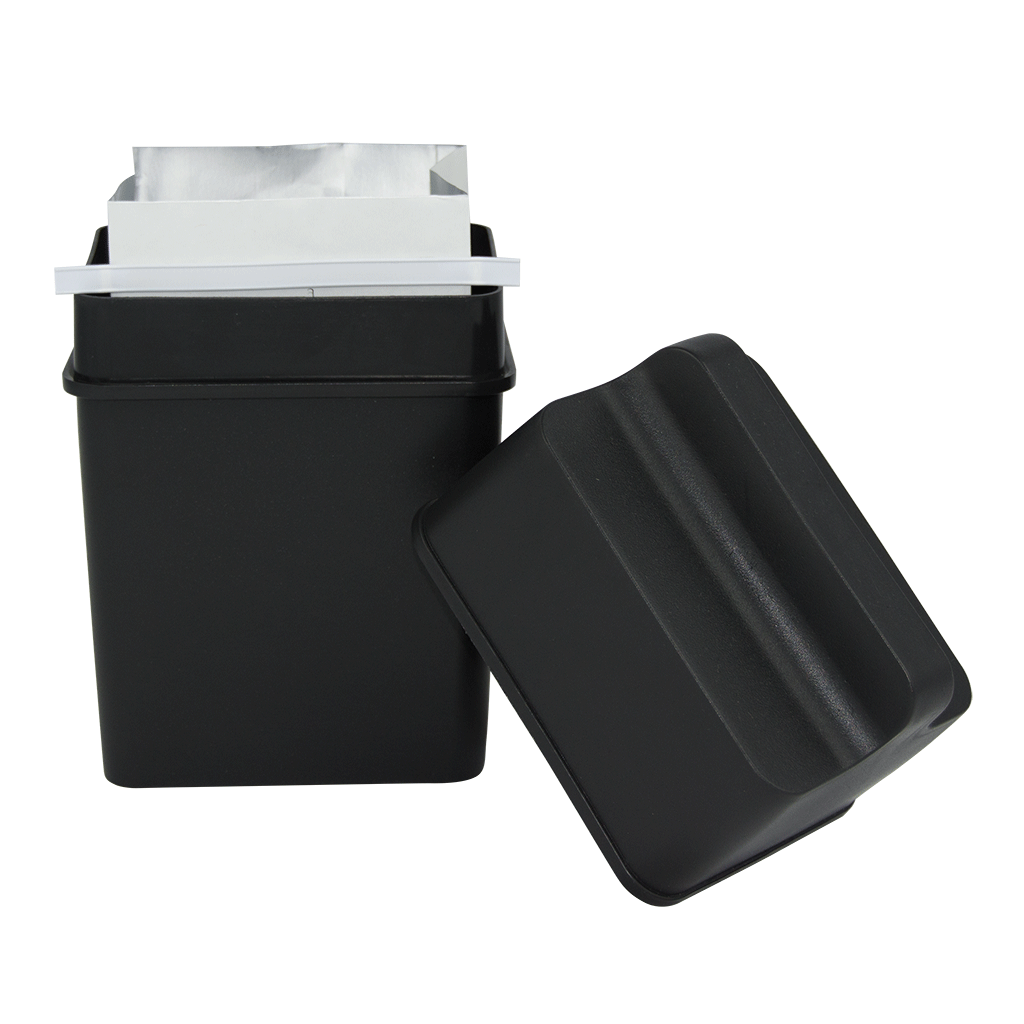 RANGE KLEEN RELAUNCHES IMPROVED FAT TRAPPER™ SYSTEM
Range Kleen announces the relaunch of an improved Trap the Grease Fat Trapper™ System in 2017.
In 2017, Range Kleen launches an improved Trap the Grease Fat Trapper™ System. Responding to consumer feedback and desire for change, Range Kleen made several improvements to the original Fat Trapper™ System.    
Range Kleen's improved Trap the Grease Fat Trapper™ System consists of The Fat Trapper™ canister with two disposable Trap the Grease Bags.  The Trap the Grease Fat Trapper™ System is designed to store and conceal unsightly kitchen fats, oils, and grease for proper disposal. The Fat Trapper™ canister color has changed from white to an attractive, sleek black. The container is BPA FREE, made of polypropylene and is airtight. The Fat Trapper™ canister stores and conceals kitchen fats, oils and grease, and is designed to be used with the Trap the Grease Bags.
Range Kleen's Trap the Grease bags are an improved version of an older style paper foil bag. The new and improved bags are temperature safe to 200˚ F, and are made of polyethylene, aluminum, white kraft paper, and polypropylene.  The large 22-ounce capacity of the bags paired with the re-closable and re-sealable features make this user-friendly bag easy to remove, dispose of and replace. Replacement bags are available in packages of five or ten. Range Kleen relaunched the Trap the Grease Fat Trapper™ System in the Fall of 2017.
For further information, contact:
Dana Swearengin, Director of Marketing Range Kleen Manufacturing 419.331.8000 x159
About Range Kleen Mfg., Inc.
Range Kleen Manufacturing, Inc. is a Lima, OH-based company manufacturing household products sold to major retail chains globally and has been taking care of the customer (TCOTC) since 1971. Its product divisions include Original Equipment Manufacturer Quality (OEM) replacement drip bowls for ranges & stoves; Non-stick Metal and Ceramic Coated Metal Bakeware; Kitchen Decorative products specializing in exclusive licensed designs; aRange Storage & Organization, insulated food and beverage bottles, Specialty Gourmet Quality Cookware, Cookware Storage/Pot Racks and kitchen cleaning supplies. Partnering with Berndes Cookware from Germany in December of 2009, and with Moneta Cookware from Italy in July of 2015, Range Kleen had taken the lead of all sales, shipping and marketing of Moneta Cookware USA and Berndes Cookware USA from their headquarters in Lima, Ohio. To learn more about our brands, visit Rangekleen.com, Berndes-cookware.com, Moneta-cookware.com.