REMEMBER TO COME BACK AND RATE AND REVIEW YOUR PRODUCT.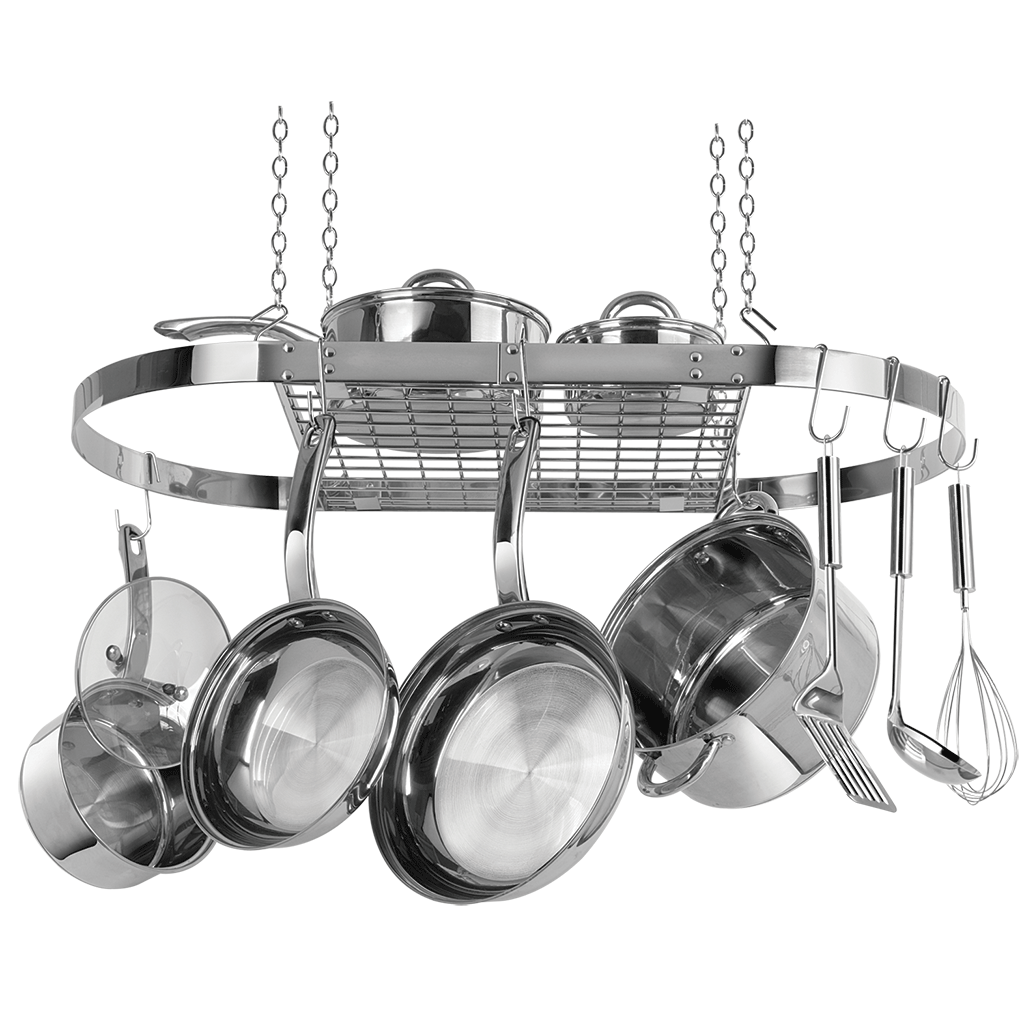 CW6001 Stainless Steel Oval Hanging Pot Rack by Range Kleen
$106.99
Arrange your cookware and utensils with the Stainless Steel Oval Hanging Pot Rack by Range Kleen. Easily access your hanging cookware and utensils with this ceiling mounted rack! This attractive oval pot rack hangs from the ceiling with an upper shelf and repositionable hooks to stylishly maximize your space. Hang over the stovetop, sink, island, or any other desirable space in your kitchen. Maximize your space with this stylish hanging rack, as seen in designer home magazines!
5-Year Limited Household Warranty
Upper shelf allows additional storage
Repositionable hooks
Holds up to 40 lbs.
Dimensions: 1 1/2" H x 33" W x 17" D
Available in several colors: Copper Plated CW6015, Enameled Black Finish CW6000, Enameled Hammered Gray CW6016
Prevents stacking damage
Completed hardware included for easy installation
Oval shape
Stainless Steel 
Includes: 1 Oval Rack Frame, 1 Grid Shelf, 4 Lengths of Chain, 4 Ceiling Hooks, 4 Rack Hooks, and 12 Pot Hooks
Saves cabinet space
5 Year Limited Household Warranty
Range Kleen Mfg., Inc. warrants pot racks to be free from defects in workmanship and materials under normal household use to the original purchaser for 5 years from the date of original purchase.  To maintain your pot rack, we recommend that you follow the Use and Care instructions carefully.
During this period, Range Kleen Mfg., Inc. will repair or replace, at its option, any defective item returned to Range Kleen with original purchase receipt.  If the item is out of production, an item of similar value and function will be substituted. Commercial use of this product voids this warranty. Incidental or consequential damages are not covered by this warranty.  This warranty is non-transferable.
This warranty will not cover damage caused by misuse of the product in direct opposition to the supplied Use and Care.  All discoloration, scratches and stains or other signs of misuse or abuse of the pot rack that do not affect the function of your pot rack are not covered under this warranty.
This warranty give you specific legal rights.  You may also have other rights which vary from state to state.