REMEMBER TO COME BACK AND RATE AND REVIEW YOUR PRODUCT.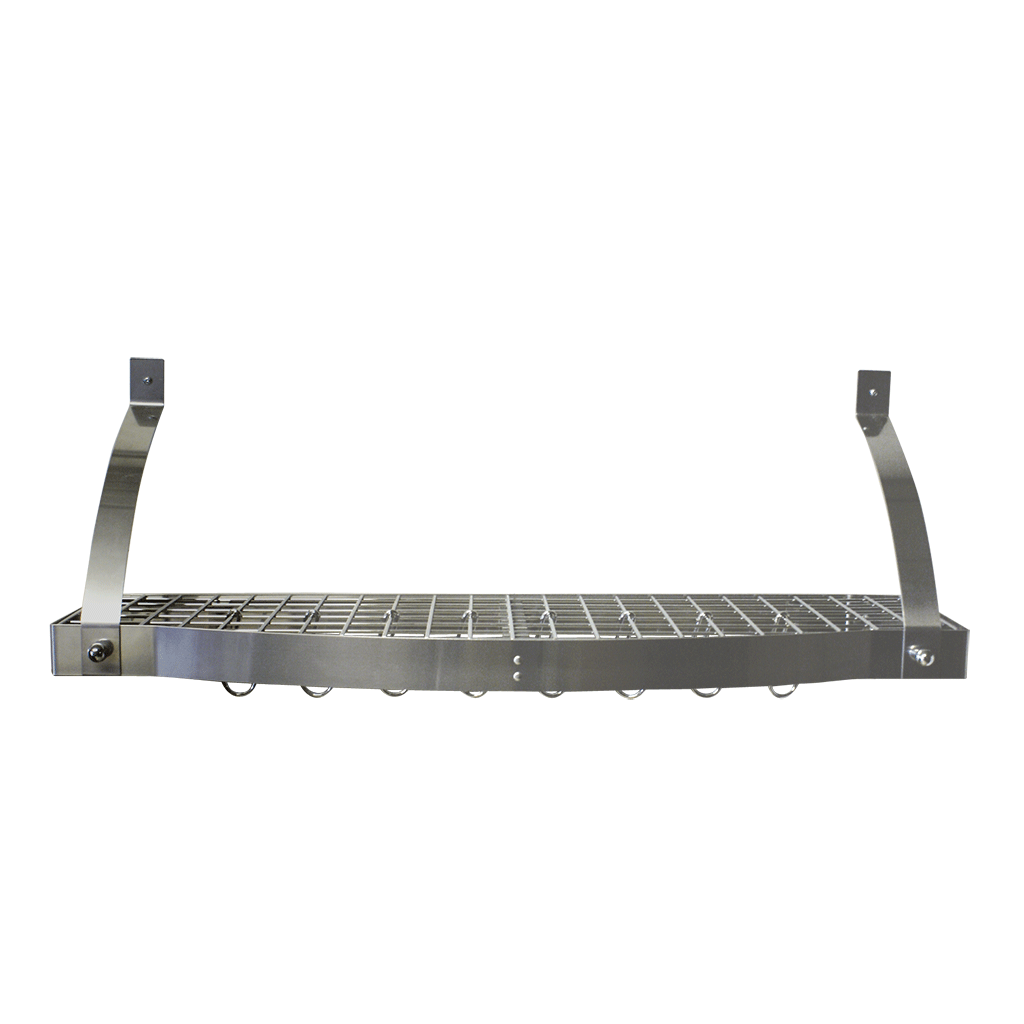 CW6009 Stainless Steel Bookshelf Pot Rack Range Kleen
$151.99 $47.47
Add a stylish, wall mounted Stainless Steel Bookshelf Pot Rack by Range Kleen. Hang cookware and utensils from the hooks and utilize the top of the shelf to display plants, cookbooks, and decorations. Full assembly and installation instructions included.
5-Year Limited Household Warranty
Repositionable hooks
Stainless Steel
Holds up to 30 lbs.
Dimensions: 36" W x 10" D x 12" H
Also available in Enameled Black Finish CW6010
Prevents cookware stacking damage
Completed hardware included for easy installation
Rectangle shape
Pot Rack Set includes: Shelf frame, Chrome Grid, 2 Decorative Screws, 2 Brackets, 4 Phillips Wall Screws, 4 Wall Anchors and 8 Pot Hooks
Maximizes small kitchen spaces
Items can be stored on top of shelf
5 Year Limited Household Warranty
Range Kleen Mfg., Inc. warrants pot racks to be free from defects in workmanship and materials under normal household use to the original purchaser for 5 years from the date of original purchase.  To maintain your pot rack, we recommend that you follow the Use and Care instructions carefully.
During this period, Range Kleen Mfg., Inc. will repair or replace, at its option, any defective item returned to Range Kleen with original purchase receipt.  If the item is out of production, an item of similar value and function will be substituted. Commercial use of this product voids this warranty. Incidental or consequential damages are not covered by this warranty.  This warranty is non-transferable.
This warranty will not cover damage caused by misuse of the product in direct opposition to the supplied Use and Care.  All discoloration, scratches and stains or other signs of misuse or abuse of the pot rack that do not affect the function of your pot rack are not covered under this warranty.
This warranty give you specific legal rights.  You may also have other rights which vary from state to state.