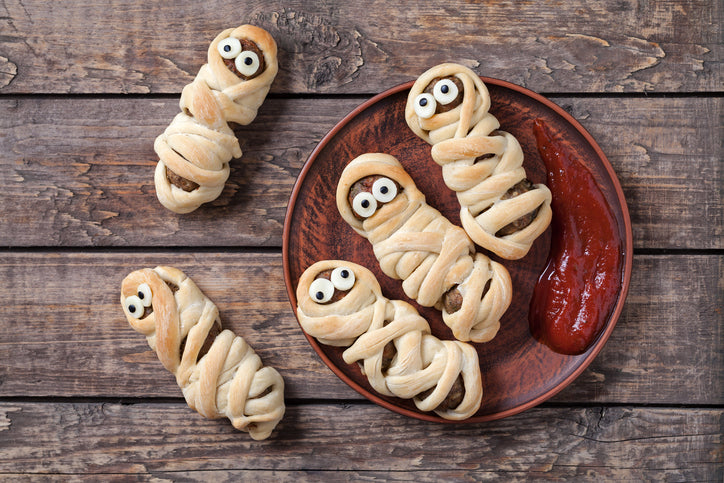 Creepin' It Real!
Halloween is just around the corner and at Range Kleen, were creepin' it real with some tasty, spooky delights. From monstrous stuffed peppers to yummy mummy cupcakes, we'll share some tricks of your favorite treats for a haunting good time!
Spook your family with this quick treat. Prepare a breakfast fit for goblins by whipping up a quick batch of pancakes, then use chocolate syrup to draw spook designs! Your loved ones are sure to get a chuckle out of this wicked start to the day.
For a quick kid-friendly lunch toast two pieces of bread, then top toast with some pizza sauce, spread separated string cheese (or mozzarella) to and lay across pizza sauce resembling mummy bandages. Finally, top with olives and then place on a baking sheet (we love using our Broil and Bake Pan ) then broil until cheese is melted.
If you're looking for a devilish delight, add some triangle red pepper and sliced olives to traditional deviled eggs. 
Cut Jack-O-Lantern faces out of bell peppers before stuffing them for a ghoulish dinner. 
Severed fingers are minutes away from your snack display with this Cooking with Libby's recipe. Try out 
Bring a little mummy madness to the table by piping white icing onto chocolate cupcakes. Add candied eyes (or coated chocolate candies) and voila! A spooky sweet treat. 
For a savory mummy treat, place frozen meatballs on crescent rolls, slice the sides of the crescent roll like fringe to resemble bandages, fold across the meatballs and bake. Bake at 375* for about 15 minutes. 
If you're looking for healthier snacks, consider bringing bananas and clementines to the table. Dress bananas up with chocolate chips eyes and a mouth. Add a small stem of celery to each clementine for a pumpkin look. 
Try spreading peanut butter on apple wedges and sandwich mini marshmallows between two wedges for "teeth". Then add two toothpicks with marshmallow eyes (use a food coloring marker or a dab of chocolate frosting). These will surely be a hit.
We hope you find these tips help make your Halloween a celebration to remember.